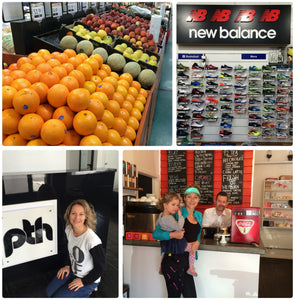 Support your locals & Shop Small with American Express
When Amex invited me to share my favourite small businesses in Ballarat, I was thrilled to jump on board with the Shop Small movement. I am all about sharing the love and supporting our local B2B (Business To Ballarat), as it encourages us to spend locally as well as creating and retaining local jobs. Shopping locally is convenient as you are in and out with your purchases very quickly. In the instance something needs to be exchanged or repaired, this can be managed easily because you can simply pop back into the shop of purchase. Same applies with you in your local neighbourhood, get out there and scope out the new start-ups, family businesses and the independents and show them your support. After all, they are the heartbeat of your community! It's no secret they depend on us to make their small business a success.
Come check out my Shop Small business map for Ballarat and whenever you come and visit, you can print this off and take a "virtual" walk with me!
In the meantime, let's ramp things up in social media land by giving our favourite local businesses some love by using the #ShopSmallAU hashtag. Whilst walking in and around these great local businesses, introduce yourself and take a selfie with the owner(s). They will love you for it!!
You can find out more about the offers and merchant rewards for the month of November at http://shopsmallaustralia.com/sswalks
Think Big- Shop Small. What's your favourite shop in your local community?
xxDani
Take a walk with me . . .
My morning starts off with some fresh Wilsons Fruit & Veg. Followed by some runner shopping for Adrian at Intersport SportzBiz, he's in desperate need of some new kicks! Then it's a cut and blow wave at Paul Tabbit Hair. Can't forget my morning coffee at Round The Way.
Then it's manicure time at Rubilicious with little Mietta and Zali, a quick treat at L'Espresso with our favourite ricotta pancakes, followed by some frock shopping at Miss Behavin'. Then meet the family at Golden City for dinner.