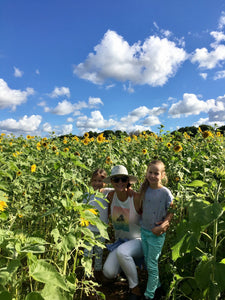 Sunflowers Happy and Positive Vibes
Such a beautiful afternoon. We love visiting the Farm & Co. in Kingscliff which is literally a 5 minute drive from our place.  
I'll never forget the wonderful experience we had with the farm manager Matt last year who sadly passed away recently. He was so full of life and laughs, this world and his family will miss him dearly.  
These beautiful flowers remind me of my Dad and the birth of our sons when Adrian brought me sunflowers at the hospital. Both days were filled with sunshine. I love you Noah and Oscar 👬 You're the coolest, funniest, most well mannered and loving humans in my life. I'm so proud of you.  
Spending the day with my girls Mietta (7) and Zali (5) while boys were playing footy.  
Searching the heaven
Until the work is done,
Natures disciples  
Follow the sun.  
Let them be  
Our example  
When the day begun,
Eyes  
Reaching for heaven
Seeking the sun.    
What beautiful words ...
I adore you so much sunflower. You're one of my fave's and you make me so so happy. You mirror and face the sun in all its glory and energy. You soak up all the sun's positive and happy vibes ... thank you for sharing this happy vibe with me 🌻 
Sending you loads of love. Have a sun-sational day!
XxDani  
365 Lifestyle Motivator