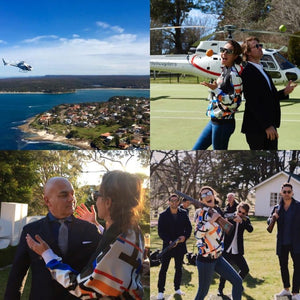 Sunday Snapchat Stellar Magazine Launch
I am speechless! I am still buzzing over my sensational weekend away in Sydney. I was fortunate enough to be a part of an epic Sunday mag launch The Sunday Telegraph STELLAR! It kicked off with my alarm going off at 4:30am on Sunday, followed by AUDI private drivers taking us to Mascot airport, being flown in a chopper (my first ever helicopter experience, thank you Mark at Sydney Helicopters for an epic ride) over the Southern Highlands with Melissa Doyle and six lucky competition winners, landing on a tennis court at Milton Park Country House Hotel & Spa.

A delicious breakfast with Hayden Quinn, followed by a live broadcast on Sunrise morning show, laser clay pigeon shooting with Ed Lower and Anthony Minichiello, a massage pamper session with Stellar magazine editor-in-chief Sarrah Le Marquand, croquet with all the fashionsta bloggers and media celebrities, sailing around the Sydney Harbour and drinking champagne with beauty editor Cleo Glyde and eating canapés with Danielle Cormack, followed by dinner at a mansion with Neil Whittaka.
Come check it out!
Our breakfast
Zucchini corn fritters
@deliciousaus zucchini corn fritters for our spectacular @stellarmag breakfast with some incredible humans tagged in this photo 😍 Have you seen this mornings #StellarMag? The stunning @ellemacphersonofficial THE BODY is on the cover 😍 Happy Sunday and for more behind the scenes check out my snapchat and instagram stories. XxDani Your 365 Fitness Food Motivator #DailyDani #SundayHeraldSun @dailytelegraph #thesundaymail
Sydney Helicopters birds eye view
Happy Monday!
xxDani
Your 365 Fitness Food Motivator