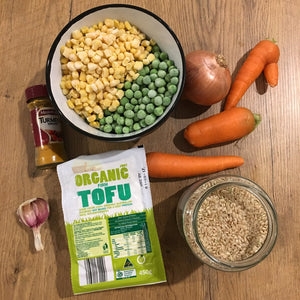 I love it when I can adapt my old recipes to a more plant based and healthier version.  
Here are the ingredients you will need; 
Depending how many people you are serving, all of the above served our family of 6 and gave 4 of our kids left over lunches for school today. 
Special Vegan Fried Rice
I placed brown rice in our steamer while I sautéed the finely diced onions, garlic and carrots until they were soft. Use your preferred oil, I'm experimenting and using vegetable oil but mainly coconut oil these days.
I crumbled the tofu into the mixture and added and a cube of chicken flavoured vegan stock with a splash of water but not too much. This allowed all the flavours to infuse as Adrian isn't a fan of bland tasting tofu!!! Feel free to add salt and pepper to taste. 
For the colour of the scrambled eggs "look alike", I some sprinkled turmeric powder. I then added frozen peas and corn and cooked until they were heated through. For that "once upon time" bacon flavour, I drizzled the vegan "smokey flavour" liquid which is amazing!!!! Adrian really couldn't taste the difference from my old school scrambled eggs and bacon bits  
Add the brown rice, drizzle some soy sauce and garnish with parsley. That's it!
Enjoy. 
You can watch the video here.  
Have a sensational Monday let me know what you have planned this week.  
XxDani  
365 Lifestyle Motivator