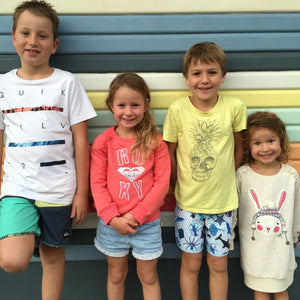 Saturday surfing session down at Byron Bay
Gotta love my husband Adrian, well, me really - since I inspired us to move 200 metres to the beach, he can surf everyday of his life. Ha ha. So our boys are super stoked when he says;
"Wake up boys, we are off to Byron Bay for a surfing session!"
I don't mind giving Adrian my awesome new Volvo XC60 from time to time (I know he's extremely jealous with my hot new wheels) as the seats fold down and allow the surfboards and boys to sit in the front and back. When you can fit things in a car easily, the hassle just goes and that makes road trips even more fun! I whizzed up a super healthy smoothie-to-go and their bellies were happy too. Ahh Volvo making parenting so easy. Thank you.
Good times and memories is what our family is all about. Throw in fitness and fun you get one happy family that loves to do things together.
We never know where we are going next and the beauty with living so close to everything here, we just jump in the Volvo and we are off!
While the boys were enjoying their morning surf and croissants at a local Byron Bay bakery, us girls were keeping busy with the local farmers' market and painting. One of the great things about living in this gorgeous climate is all the amazing fruit and vegetables we have access to - so fresh and we love buying organic too! A perfectly ripe banana is hard to beat for me - creamy, sweet, smooth texture and so packed with that potassium-rich goodness that it sets you up for the day with the energy you need to achieve all kinds of amazing things.
How easy is it to keep young minds creative by giving them a straw, some water colours paint and paper. Here's our little activity earlier this morning.
We all love our technology as much as anyone but we make sure that we have plenty of time away from it too. Lots of talking, giggles and thinking about things - stretching our imaginations always creates some great results. The painting thing was such a simple activity to set up and the kids loved seeing the way the colours looked together. Super talented and we had such a fun time together - just us girls! - and the boys had a blast hanging and surfing with Dad too. Don't get me wrong, we all love the beach and surfing together but sometimes boys will be boys and they need their one-on-one time together.
Then we all come together full of smiles and enjoy hanging out as a family of 6....
How about you? What fun things do you enjoy doing with your family to create memories?
Have a sensational Saturday and remember to do small things with much love.
XxDani