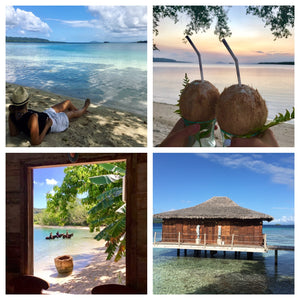 Ratua Private Island you are a dream. I love Vanuatu Islands.
This time last week, we were packing for our belated 10 year wedding anniversary trip to Vanuatu. I am thrilled to partner with Vanuatu Tourism this year to bring you more amazing places you can getaway with your loved ones and enjoy quality family fun times. 
As you may know, this is my fourth trip to Vanuatu (kids went twice) and Adrian's third. We love Vanuatu, the people, culture, food and the way it makes us feel. This trip was no different and its just 2 hours away from Australia with direct flights. 
The first place we visited was stunning Ratua Private Island after landing in Luganville on the island of Santo. This resort is as close to natural paradise as you can get. Say goodbye to your television, say hello to sea breezes and ceiling fans, goodbye electronics (limited wi-fi) and who needs all that when you have come to relax and unwind to get back to nature. 
We welcomed the sunrise between the coconut trees whilst horse riding and admiring the beautiful Banyan trees, swam in blue water holes and with horses, snorkeled, kayaked, ate organic cuisines, met incredible people and made lots of new friends. Most of all, we spent quality time with one another. 
The video says it all, especially the numerous amounts of times I said AMAZING! I was blown away, literally. It's all I could say, see how many "amazing" times you can count! (laughing hysterically). 
Click to discover this slice of paradise and enjoy! 
Amazing right? (laugh out loud)
What was your favourite part? We were almost "off the grid" for the 3 days so I had some delays uploading and posting on my Instagram stories into Youtube. So, some moments were uploaded earlier than others. But you get the picture, right? It's pure paradise. 
I am compiling the rest of our memories (we spent 2 magical nights at Aore Island Resort and then we flew into Port Villa and stayed at the gorgeous Warwick La Lagon Resort). I'll share these magical places over the next couple of posts. 
This is how Ratua Private Island made me feel....
AT PEACE 
Heaven on earth. The most peaceful, tranquil and spiritual feeling I have ever felt. Being quiet is my peace and calm 🙏🏼🌏 this private "dog" villa at Ratua Private Island is absolute bliss ✨a perfect way to celebrate our belated 10 year wedding 💍 anniversary. Do yourself a favour and visit @vanuatuislands 🌴☀️🌊🌺🐚 only 2.5hrs away from Brisbane #discovervanuatu #ad XxDani 365 Lifestyle Motivator
I cannot wait to share more family fun in Vanuatu later this year and thanks  again Vanuatu Tourism Australia for the collaboration, we are the perfect fit when it comes to discovering the beautiful islands of Vanuatu with the Nomadz.
You can check our previous travels to Vanuatu here. 
xxDani
365 Lifestyle Motivator