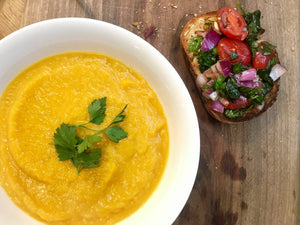 Pumpkin Soup With Bruschetta Vegan Style
I grew up on this stuff. Loaded with thickened full dairy cream, sautéing the onions in butter and adding some chicken stock.  Then of course with the bruschetta sliced Parmesan cheese was just a given....these days we are opting for more healthier choice meals and compassionate eating so give this a try next time you have a Meatless Monday meal. 
Pumpkin Soup Vegan Style 
Ingredients 
1 large pumpkin diced   
1 sliced brown onion
2-3 crushed garlic
2-3 cups of vegan chicken stock
Salt and pepper
Drizzle of olive oil
Fresh parsley to serve 
Method 
If you don't have time to oven bake your pumpkin, simply place pumpkin, onion, garlics and into a pot of cold water. Once boiled add vegan chicken stock, salt and pepper. I add a sprinkle of tumeric for that extra anti-flammatory goodness and allow the soup to boil until it softens. Purée for a thicker texture or add more water or chicken stock if you prefer more of a soup consistency.
Bruschetta Appetisers   
Ingredients  
French stick or ciabatta bread   
1-2 tomatoes
1 red onion
1 crushed garlic  
2 handfuls of parsley and basil
Sweet balsamic vinegar   
Drizzle of olive oil  
Salt and Pepper  
Method 
Lightly toast bread, chop all ingredients or place in a blender, drizzle olive oil on bread and spoon over bruschetta mixture!
This combination is sensational and an awesome snack for the kids when they get home. Plus I love telling them;
" I love you from my head to my tomatoes. " 
Tag me #ds365vegan when you're making any of my recipes on social media as I love seeing your version.
xxDani  
365 Lifestyle Motivator