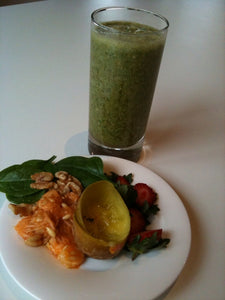 PIZZA night!!! You'll never buy take away again...
Now I must warn you I will be overloading this page with a lot of pizza shots!! A step by step guide on this revolutionary home made pizza recipe that only requires 2 ingredients.
Self raising (I use wholemeal for the clean eating version) flour
warm tepid water
actually 3....olive oil but I missed that step tonight
That's it!!! You will never buy take away pizza again, EVER! My husband is a pizza connoisseur and he gives me a 10 out of 10. Thank you very much....also to Kris a girlfriend of mine letting me know about Jamie Olivers quick pizza base and how basic and simple it was to cook on the stove top & then grill the toppings in the oven. Under 10 minutes!!!!! It's electric!
Anyways back to my morning of glorious food. You must know by now how much I LOVE  MY FOOD right? Yes, as much as my kids! Maybe a little bit more, just kidding!
I did my 15 minute Transformation Challenge workout before school drop off. I love how my kids mimic my movements and get so excited to exercise with me in the morning!!!! Too funny especially when I am telling them to brush their teeth and get ready for school.
My pre workout meal
Apple puree (about half a cup) no added sugar of course
Post workout drink/meal (remember you need to always fuel your body pre and post workouts)
Green smoothie with protein powder
(added 1/2 cup of cooked porridge) as this was my breaky on the run
Morning snack
1 orange
1/2 cup yogurt with nuts
latte
Lunch
left over tuna rissoles with salsa salad and yogurt
Afternoon snack
Vegetable juice (left over red capsicum, 2 cucumbers, 4 broccoli florets, 1 apple & ginger) so delish!
crackers with hommus dip
Dinner
PIZZA's ;-))))) I prepare a base station with all the topping to make it easy to move quickly.
Kids had Hawaiian and we had spinach, salami, anchovy & feta
Stage 1 (this takes 2 mins)
Add your flour quantity and blend the flour adding a splash of water until it looks like a breadcrumb texture (I also add garlic salt, herbs but forgot the olive oil tonight, oops!) and keep mixing until the dough starts to roll around in your blender
PICS TO BE LOADED ASAP
Stage 2 (and this only takes 2 mins)
Gently knead for a couple of minutes and make into bases. Place in a fry pan lightly sprayed with olive oil
Stage 3 (seriously this too only takes 2 mins)
Add toppings and cook over stove top until base is cooked, then simply place under the griller for the toppings to melt and crust goes crispy!
PICS TO LOADED ASAP
Stage 4 (inhale in 2 mins!!!)
EAT
Sorry my beautiful people but I have serious internet issues and am not able to load all my pics properly!!! I am devastated!!! As you may have already guessed, I am a very visual person so I want to be able to show you what's happening here. I do apologise and hope to update the pictures real soon. Please come back again xxDani