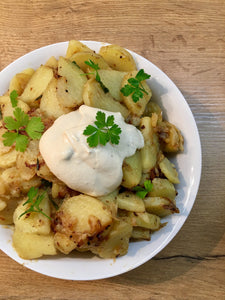 Herb Potatoes With Cashew Horseradish Cream
We had such a quick and tasty dinner tonight. Vegetable sausages on the bbq which hasn't been turned on for six months! Served with herbed potatoes. 
Did you know potatoes have more potassium than bananas? Jam packed with vitamin C, loaded with antioxidants, magnesium and  contain no salt or cholesterol. 
Herb Potatoes With Cashew Horseradish Cream
 Ingredients 
1kg potatoes
Olive oil
2-3 crushed garlic
Handful of rosemary & fresh parsley   
1-1/2 cups of water
Method 
Finely slice potatoes, add to preheated pan with olive oil, season and add crushed garlic. Allow to cook for a couple of minutes to allow garlic to infuse, add water and place lid to steam and cook potatoes quicker. Keep mixing until potatoes are cooked through.  
Meanwhile, sausages are on the BBQ, potatoes are cooking quickly blend this delicious cream. 
Cashew Horseradish Cream
 Ingredrients
3/4 cup soaked cashews
1/2 cup of plant based milk
3 tbs horseradish  
1 tbs Dijon mustard  
2 tbs white wine vinegar  
Squeeze of half a lemon
Salt and pepper 
Method  
Blend all ingredients into a high speed blender and serve with golden brown potatoes.  
Watch our Sunday; 
How was your weekend? Here's a gentle reminder and motivation for tomorrow....
xxDani
365 LifestyleMotivator