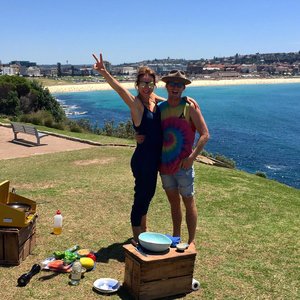 Cooking with Bondi Harvest
We all know Bondi is one of the most iconic of all Australian beaches and it's one of the first places I go to when I'm back in beautiful Sydney. There's something so fabulous about the beach culture of Bondi that goes beyond the actual beach – it's filled with a wonderful laid back atmosphere and that's reflected in many of the popular cafes and restaurants scattered around this great suburb!  
You'll never be stuck for things to do in Bondi, from the incredible coastal walk from Bondi-Bronte to a weekend a stroll around my favourite markets. I'm always inspired by the influx of young jewellery and fashion designers – many of whom use the markets to test the waters and see if their designs are popular with market shoppers before launching into the stores.
For the shopaholics, Bondi Junction's Westfield is filled with fabulous shops and the food court is especially great. If a large shopping centre isn't your thing, then stroll around the shops on Halls Road and check out all the little side streets that feature specialty boutiques. There are countless cafes to grab a green smoothie or latte! For the bookworms, don't miss Gertrude & Alice, a bookstore/café known for its delicious frappes and great coffee.
But, as you all know, one of my biggest loves is food and Bondi is a foodie's heaven!
Last year in Bondi I had a fantastic cooking experience with the guys from Bondi Harvest. Guy Turland and Mark Alston joined me on the hilltops overlooking Bondi Beach and cooking the most sensational food!
Cooking with this big spunk @bondiharvest STAY TUNED for our epic YouTube on DaniStevens.com and BondiHarvest.com 💋💋💋 Tough job cooking with Bondi beach as our backdrop. YEW! XxDani
 

Bondi Harvest is an explosive celebration of fresh, local and seasonal food with a laid-back, healthy and aspirational Bondi lifestyle - sprinkled with a few of life's guilty pleasures. Guy and Mark have a hugely popular food channel on YouTube and also a fantastic cook book. I learnt a lot from Guy and Adam and, between us, we came up with some fabulous recipes. With a backdrop like Bondi, it was impossible not to create a little magic. You could say Bondi Harvest encapsulates everything I love about Bondi! Bondi Harvest focusses on delicious tastes, simplicity, sustainability, seasonal cooking and fresh whole foods. I also love the fact he doesn't take life too seriously and genuinely embraces all that is special about living and working near one of the world's most beautiful beaches.
The sun before the storm !!! Yew
The sun before the storm !!! Yew A photo posted by Bondi Harvest (@bondiharvest) on Jan 13, 2016 at 8:52pm PST
While we're on the subject of food - one fruit I love incorporating into my healthy eating regime is the always versatile, always delicious papaya! I'm proud to be an ambassador for Papaya Australia and I cannot stress to you enough times what a great source of health is in just a small amount of papaya! There's a good reason why papaya is known as the 'fruit of angels!'
Day 27. Raw #foodiephotoaday All I can say is....bring on Spring and fresh papayas!!! I've designed this amazing dish that I can't wait to share with you really soon on our YouTube channels. My awesome friend @bondiharvest shares his secret to crispy salmon skin and I whizz up this amazing papaya salsa salad. Taking home delivery orders now ? do you want some? XxDani

A photo posted by Dani Stevens (@1danistevens) on Nov 26, 2015 at 10:00pm PST
Papaya helps lower cholesterol. The fruit is rich in fibre, vitamin C and antioxidants that prevent the build-up of cholesterol in your arteries.
Papaya helps weight loss: One medium sized papaya contains just 120 calories. So, if you're planning to lose weight, don't forget to add papaya to your diet.
Boosts your immunity: Your immune system acts as a shield against various infections that can make you really sick. A single papaya can fulfil more than 200% of your daily requirement of Vitamin C, making it a great way to build a stronger immune system.
Good for diabetics: Papayas are low in sugar content making it a great fruit for diabetics. The vitamins and phytonutrients present in them prevents development of heart disease in diabetes. Also, people who don't have diabetes can eat papaya to prevent it from happening.
Your eyes: Papayas are rich in Vitamin A and flavonoids like beta-carotene, zeaxanthin, cyptoxanthin and lutein which keep the mucus membranes in the eyes healthy.
Please take a look at Papaya Australia's fabulous website for some easy and delicious recipes – such as papaya and salmon salad, red papaya lassi, prawn/avocado/papaya salad and lots more! I'd love to hear about your favourite fruit and the inventive ways you manage to use them in your everyday cooking!
Xx Dani
Your Everyday Fitness Food Motivator