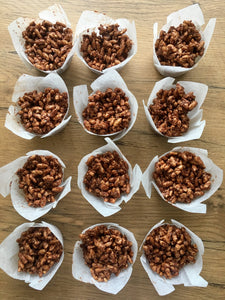 Coconut Chia Chocolate Vegan Crackles
I grew up on these babies and now I'm so happy our kids get to enjoy them without all the added refined sugars and unhealthy fats. 
Especially with the added superfood chia seeds! I never had these when I was growing up. 
Chia seeds are rich in antioxidants, provide fiber, iron, and calcium. Plus loaded with omega 3 faty acids which are incredibly important for your brain and body.
Coconut Chia Chocolate Vegan Crackles 
These were all the ingredients I had in my pantry last night so I mixed them all up; 
Brown Rice Puffs
Dessicated Coconut  
Agave Syrup
Cacao Powder
Coconut Oil
Chia seeds
 Ingredients 
2 1/2 cups brown rice puffs (or you can use rice bubbles)
1/2 cup dessicated coconut
1/3 cup cocoa powder 
1/3 cup agave or maple syrup
1/3 cup melted coconut oil
1tbs chia seeds
Method
1. Mix dessicated coconut, chia seeds and cacao powder with the rice puffs into a large bowl. Melt coconut oil and add agave syrup and pour into dry ingredients. If it's too wet, add more rice puffs or too dry? Add more sweetener or coconut oil.
2. Divide the mixture into 12 large muffin liners (or 24 small liners). 
3. Set in fridge or super fast in freezer to enjoy sooner rather than later.