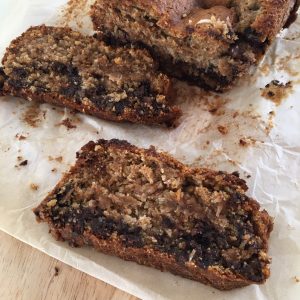 I never thought there could be too much chocolate in a recipe but when the kids told me this bread was too sweet, I exactly knew why! Totally poured an entire bag of dark chocolate cacao chips instead of measuring or using my moderation senses. I've got none when it comes to chocolate or baking.
This is what happened....
https://youtu.be/OXoIMm-Kcqc
The house smelt amazing. My Instagram stories were going off the hook (even Lola sent me comments) with recipe requests, so here I am....trying to recall last night.
Chocolate Coconut Bread
Ingredients
2 cups of almond meal (or use 1/2 wholemeal flour with almond meal) 1 teaspoon baking powder 1/4 cup macadamia oil (or coconut oil) 1/3 cup your preferred milk 2 eggs 1 teaspoon cinnamon 1 vanilla pod (or splash of vanilla essence) 1 cup shredded coconut
Method
Mix dry ingredients with wet until you get a moist muffin mixture. See video above. Line muffin tray or bread tin and preheat oven to 220C, reduce down to 180C, place tin in oven and allow to bake until golden brown. Approx. 30-45 minutes. Check with a skewer inbetween to ensure its cooked through, especially with the bread version.
A BIG thank you to beautiful Lola Berry for all her delicious cook books and for this recipe inspiration!
xxDani
Your 365 Fitness Food Motivator