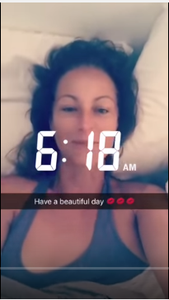 Another awesome day fun filled fitness
Today was awesome. Why? It started with cuddles as early as 6am hence placing the soft haze filter on snapchat. Ha ha.
Then I went for my beach walk and workout. Did 2 minutes of burpees, squats, lunges and soft sand sprints to get my blood pumping. How great do you feel after a workout? I feel amazing.
Then it was school and kinda drop off, running some errands and a visit to a beauty salon. Lunch and some Skype meetings, more phone calls and messages about my Dad (I can't believe he's been gone for over a week now?) trying to come to terms with how life is too short not to live your dreams and do what makes you happy.
Then it was school pick up, snacks with refreshing frozen watermelon icy poles, a kinda BBQ family dinner and then home cleaning up and preparing for another epic day  tomorrow.
Here's ALL my snippets of today....
What did you love about today? For more fitness, food and motivation head over to my new Instagram Dani Stevens 365 page.
Goodnight and sweet dreams.
XxDani
Your 365 Fitness Food Motivator