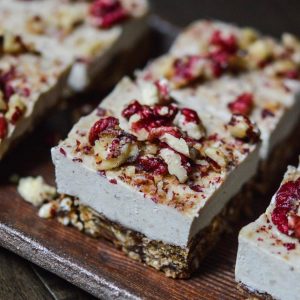 Chia Cheesecake by Vegan Superstar Edgar Raw
I love social media but you knew this already right? Edgar eats raw Instagram page is OUTTA this world, for more follow this superstar here. For now he has provided us with this scrumptious vegan friendly chia Cheesecake that makes me drool everyone I see his picture.
Without further adieu and a big round of applause, may I please introduce you to the ....
Chia Cheesecake 
Filling Ingredients 2 cups of soaked cashews (24 hrs) 1/3 of a cup of coconut oil (warm) 1/4 of a cup of coconut water (not cold) 1/4 of a cup of maple syrup (not cold) 1 tbsp of pumpkin spice 1/2 a tsp of ginger juice A pinch of ground nutmeg A pinch of ground cardamom
Crust Ingredients 1 cup of dried mulberries 1 cup of dates plus 5-6 dates 1/2 a cup of coconut flakes 1/2 tsp of ginger powder 1 tsp of cinnamon powder 1 tbsp of coconut oil
Directions 1) Add all cheesecake filling ingredients into a high speed blender and emulsify completely. The filling should be kind of warm and super fluffy after its done. (Almost like an icing) Set aside. 2) Then in a food processor just process the crust ingredients. 3) Take some parchment paper and layer any container, add your crust, then your filling, and top it with walnuts. I used a 5 by 5 container. Makes about 8 slices. 4) Freeze overnight and its ready to enjoy.
Thanks so much Edgar for sharing such an epic Cheesecake. We love it!
xxDani
Your 365 Motivator