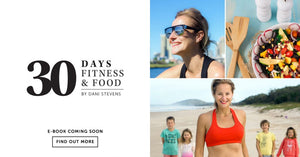 30 DAYS OF FITNESS AND FOOD - COMING SOON
If I could be any more excited, I would jump out of this screen and hug you right now! Ha ha I know....I know.... it's taken me over 2 years to put this little baby together BUT better late than never huh? All my wise 40+ years of wisdom after losing close to 100kgs over 6 years PLUS throw in some awesome food, I thought I would finally share my 30 days of fitness and food with you. So be prepared to taste test my favourite 30 recipes, join in on some family fitness fun, read about my 4 transformations and how it all began 2 years ago in social media.
I absolutely love being your fitness food motivator!
To keep updated when this baby launches, please register as I will be sharing some bonus goodies with you and I want YOU to be the first to know about it!
[gravityform id="22" title="true" description="true"]
I look forward to sharing more with you very soon.
XxDani