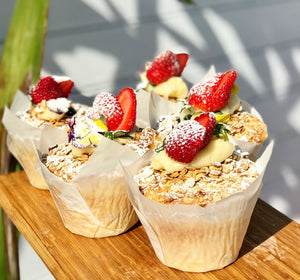 Sunshine Vanilla Oat Mini Cakes
You know they're just really your basic muffin but this 6 muffin tin tray is massive!!! So when these babies came out, they looked like mini cakes!
Now you can decorate them anyway you like, with fresh berries, dusting sugar or icing. We just happened to do all three!
Ingredients
4 
tablespoons 
coconut oil 
(you can use olive or vegetable oil)
1
cup preferred 
plant-based milk
1
tablespoon 
apple cider vinegar 
8
tablespoons 
maple syrup 
(or sub any other sweetener)
1
teaspoon 
vanilla extract
150
grams almond meal (I blend my almonds
)
150
grams 
gluten free flour blend 
(or sub plain flour if not gluten-free)
2
teaspoons 
baking powder 
(ensure gluten-free if necessary)
1
/
4
teaspoon 
bicarbonate of soda 
(baking soda)
Method
1. Preheat oven to 180C degrees (350F degrees). Mix coconut oil, milk, vinegar, maple syrup, vanilla, salt, ground almonds and oats into a bowl. 

2. Sift in the flour, baking powder and bicarbonate of soda and mix well. Combine with muffin mixture, adding the milk gently until you get your muffin texture. 

3.  Place mixture in muffin cases/tin and sprinkle over oats to decorate. Bake in the oven for 20 minutes until risen and an inserted skewer comes out clean
For the icing mix some vegan cream cheese, icing sugar, vanilla extra with a squeeze of lemon. So yum! 
Garnish with your favourite toppings and devour immediately while it's warm and fresh. It keeps well covered in the fridge for a few days but really doesn't last long here amongst the seven of us!
I hope you enjoy these and mix and match your different flours for your dietary requirements and use seasonal or frozen fruits.
Happy Tuesday and see you over on Instagram!
xxDani